Explosives; a high-performance solution for earthworks
Operators in the public works sector make considerable use of blasting in many earthworks projects that involve digging tunnels, laying TGV high-speed railway lines, or freeway routes, laying out ski slopes, securing roads, making platforms for constructing buildings, etc.
Earthworks using explosives is a solution that, in situations that are often complex, offer a financial result that is more cost effective than the various mechanical methods available on the market.
These worksites have to adapt to the constraints imposed by the immediate environment.
With its broad experience in completing public works projects, Titanobel makes its expertise in this sector available to its customers. Bolstered by its extensive experience in very hi-tech projects (the Cadarache nuclear project, the A51 freeway, and underground projects) Titanobel can respond to all of the specific environmental and technical requirements required for earthworks projects and therefore offers a good alternative to the various mechanical extraction methods.
Underground projects
Titanobel is a French leader for explosives distribution and implementation and supports public works companies in completing underground works. We work with the largest French groups to carry out tunnel excavations.
We provide our customers with products and solutions adapted to their projects, and an appropriate delivery service that allows worksites to operate 24/7.
We also provide our technical expertise in order to respond to geological and vibration issues encountered by our customers at their worksites.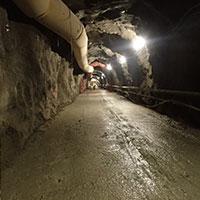 Tunnel gallery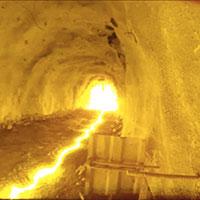 initiation of a detonation in a tunnel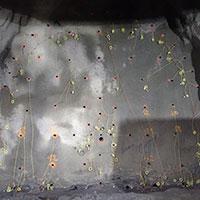 An underwater experiment
Une expérience sous-marine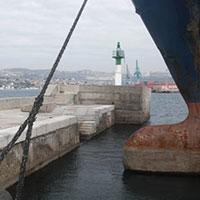 Mining project1 - OBJECTIVES
Block splitting with a spigot by mining a volume of 7,500 m3 in a spigot at a marine depth of -14 m. The spigot consists of 10 caissons measuring 8.60 m x 5.20 m. To achieve a marine depth of -14 m requires drilling holes to a depth of 17 m.


2 - AND CONSTRAINTS
- Mining to the precise depth (and particularly avoiding the need for any underpinning),
- Producing the smallest possible rocks in order to simplify loading of broken rock both via land (a mechanical shovel on the quay) and via sea (a shovel dredger on a pontoon).
- Avoiding any risk of scattering (there is a maritime terminal less than 200 m away from the spigot),
- Limiting the vibration (protecting the quays and safeguarding aquatic animals),
- Avoiding loosening the interlinked caissons with each detonation.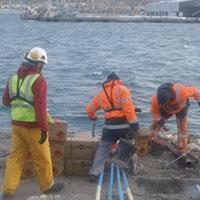 Mining a port jetty3 - WORKSITE PHASING AND COMPLETION STAGES
- Weekly phasing: Monday/Tuesday (drilling), Wednesday (firing), Thursday/Friday/Saturday (curing).
- Project execution timeframe: 10 weeks.


4 - ADAPTATIONS TO THE CONSTRAINTS AND ENGINEERING
- Drilling the bottom of the hole (straightness of the holes) with the parameters being recorded,
- Laying PVC pipes down the full depth of the holes,
- Fitting charges with cartridges using emulsions adapted to the hydrostatic pressure (to ensure no desensitization),
- High specific charge.
- Initiation using electric detonators (accuracy of the sequence for large number of detonators),
- Fastening the unmined caissons together by welding steel rail cross-pieces in order to make them secure,
- Setting up an underwater bubble curtain (for reducing the underwater shock wave),
- Covering the detonations with a device to prevent scattering of broken rock.
- Seismic monitoring consisting of 3 sealed geophones on the quays and an underwater pressure sensor in the water 30 m from the charges.