Triggering an avalanche
Titanobel offers the managers of winter sports resorts the highest level of expertise in terms of explosive production and implementation for triggering avalanches.
By providing the most up-to-date technical solutions and skills, Titanobel contributes towards the safety of ski resorts and mountain access roads.
Making the mountain slopes safe during winter periods is of primary importance.
Part of this involves ski lift operators and sometimes even local authorities having to trigger avalanches with explosives. This complex operation has to be carried out under maximum safety conditions using reliable products that can withstand extreme weather conditions.
A partnership that serves technical development
Titanobel works in collaboration with the various French ski resorts. We supply explosives and technical solutions for the preventive triggering of avalanches at over 50 alpine resorts and at all of the resorts in the Pyrenean mountain chain.
The aim of this activity is to make ski resorts safe from avalanches before the ski lifts open each day.

This line of business therefore involves certain major issues:
- SAFETY ISSUES: Avoiding the risk of accidents to members of the public
- FINANCIAL ISSUES: Ensuring resort safety is a precondition to them being opened to the public and consequently the sustainability to operate profitably.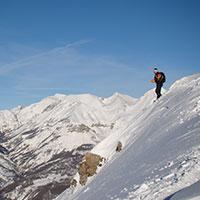 In order to control these issues, Titanobel responds to the demands of ski resorts by supplying explosives and by being responsive to weather conditions.
But Titanobel is also attentive to ski slope maintenance men who work with explosives in order to ensure the development of products and techniques for triggering avalanches on a preventive basis, improving the safety of alpine professionals, and responding to the issues referred to above.

To do this, we market a customised emulsion and specific detonators:
- EMULSTAR M40 EMULSION: A blue emulsion that allows detonations to be carried out in very cold temperatures as low as -45°C
- INSTANTANEOUS NONEL DETONATOR: Avoids any timing scatter during detonation.