The French leader in explosives is developing internationally
Titanobel's mission is to be able to support our customers' demands worldwide by providing customized solutions adapted to all scenarios. These include amongst others:
• on-site production of explosives,
• electronic blast initiation,
• technical support,
• providing turnkey charge and supply services,
• designing and supplying specific equipment items,
• adapting explosive formulas to the site geology,
• developing products for extreme weather conditions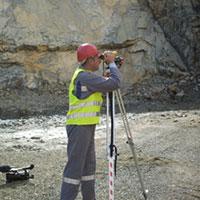 Mine blast layout using a laserThe Titanobel Group, the leader on the French market for explosives for civil use (manufacture, distribution and implementation), always promotes key values for sustainable development: :
EXPERTISE which involves technological excellence and guarantees of quality and innovation,
SAFETY, an absolute necessity within the Group, which guarantees the protection of people, property and the environment,
QUALITY, which forms the subject of a stringent approach to processes, products and services on which the Group's leadership in France is based.
These values, which are shared by all employees, are the bedrock of Titanobel's corporate personality.
On a daily basis, these values can be seen in the following manner:
TOTAL COMMITMENT, which involves being customer-oriented (listening to them, flexibility, and being willing to satisfy them),
RESPONSIVENESS, a dynamic corollary of their commitment, particularly through a substantial network of experts supporting local service,
RELIABILITY, which is the basis for a high level of trust in Titanobel's relations with all of its partners.
In the French domestic market, Titanobel has adapted its structure to accommodate changing demands.
Titanobel is developing an integrated commercial offer which includes production and distribution of explosives and accessories, together with drilling services. This provides a high level of added value.strong>

In addition to our major achievements in France, we have also developed our lines of business internationally through regional establishments (in Nigeria, French Guyana, Benin, etc.), establishments at mining sites (New Caledonia, Southern Africa, South America, etc.), and by making local production tools available under license.
Nowadays, our strategy also includes seeking opportunities for external growth.